La Cumbrecita, not to be missed
It´s like being in a huge auditorium. Created by naturs itself, the Cumbrecita Viewpoint would be the best seat in the house on your bus tour.
This natural balcony is at the end of a narrow green valley that suddenly stops hangs before the abyss of the crater, a breath-taking natural basin with a diameter of 9 kilometres, right in the centre of the island of La Palma.
On the road up to the viewpoint, you'll be met with amazing waterfalls formations of clouds as they fall over the spine of this island. Several well-maintained walks start out from the viewpoint, forming a network of trails into the park.
If you are looking for an easy hike, you can do a little loop of aproximately 2.3km and visit some other amazing viewpoints within La Cumbrecita like Mirador Lomo de las Chozas and Mirador de los Roques.
Both are placed on a rock that hangs into the caldera. From here and from the "Mirador de los Roques", which can be connected by a simple walk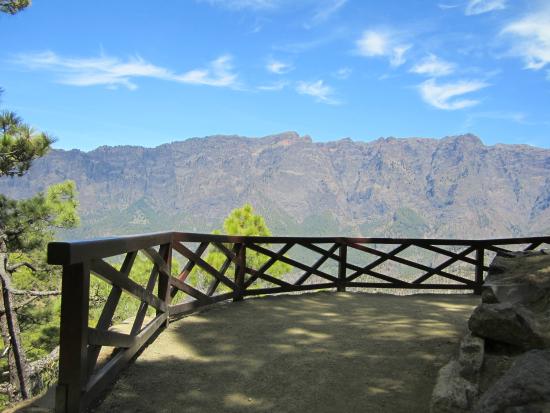 Los Brecitos viewpoint, the front door to Caldera de Taburiente
Surronded by soaring rock walls and rugged peaks the view from La Cumbrecita of this immense crater and its dozens of ravines covered in pine are simply unforgettable.
This is the beggining to the most popular of the trekking inside the National Park. It´s a hike with scenic contrast of an ancient and enormous volcano that has had time to mellow due to millions of years of erotion.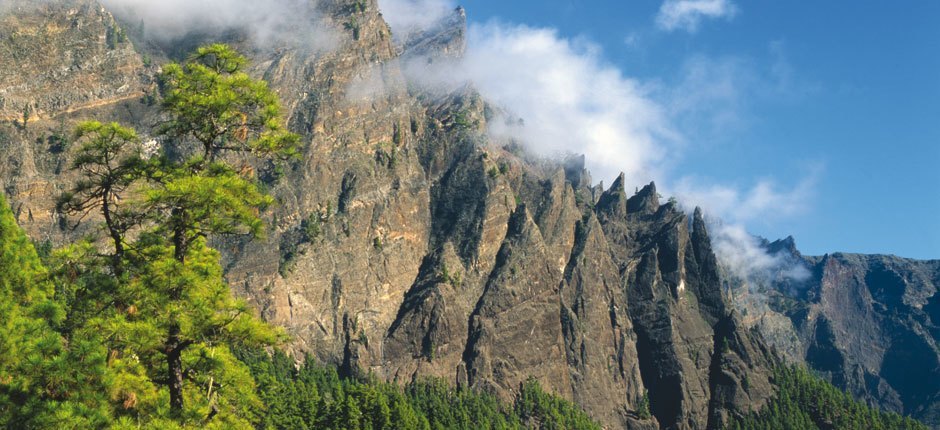 Roque de Los Muchachos, touching the sky of Caldera de Taburiente
At an elevation of 2.426m the highest point of La Palma stands Roque de los Muchachos with striking views of la Caldera de Taburiente, it´s the best place to see this amazing crater.
Looking down you can see this breath taking views of a giant volcanic crater almost 1,500 metres deep, full of pine trees and with volcanic rocks in amazing formations and colors. This area is an absolute must for anyone staying in La Palma. For those who suffer from vertigo it is best to prepare yourself beforehand for the magnitude of the visual spectacle, but please, DO NOT MISSIT IT.
You can even hike along the edge of the Taburiente crater following a part of the GR-131 trail. This is the best way to fully understand how this huge rift formed on the island of La Palma.
On cloudless days don't forget to take a photo of Tenerife, La Gomera and El Hierro floating over the sea.